Yep, Dance Of The Sun Sprites is the name of this one.
It is an expressive painting measuring 16″ wide x 20″ high on stretched canvas.
I don't think much more needs be said as it is pretty self explanatory.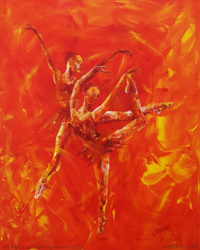 Obviously you should click it to see it larger. Prints can be had HERE.
Also I made a really cool digital remix which can be had via Society6. Posters, hoodies, a clock, and a bunch of other stuff is available there with my remix of this artwork.