We all have our favorite artists I think. Mine is and always has been through my adult life Edvard Munch. His complete body of work is to me THE most complete body of work encompassing human emotions any artist has ever created.
It is my personal belief that his obsessive nature is what allowed him to capture so much if what we foolish creatures experience in a visual manner.
One of his most famous works is called A Kiss By The Window, or sometimes just "Kissing by the Window." It was painted as part of his series known as The Frieze of Life. That series also (in my opinion) holds his greatest works.
This is the painting…
When I look at this I see so much… note that outside there exists movement, people, light in the dark, the world, but… here we have these two people removed from all that. Their moment is timeless, silence and seclusion, just them, alone with none to see, know, or bother them. The are melded together, tho separate they have in a sense become one thing. You can't really tell where one becomes two.
I could probably write 20 pages on what Munch captured so perfectly here. It is paintings like this that show how a simple visual image can go beyond poetry and tell stories that no words ever could.
Munch was obsessive. He had things to say. This kiss was revisited many times in pretty much every medium under the sun (and moon) which you can imagine being used for two dimensional art. Besides multiple versions of this imagery he played around with the concept of it and created multiple images of those as well. I will show you just a few, but note that these are just a few of many.
So… anyways, the reason for that brief bit of Munch babble was because I figured most of you would need it to get what the painting I am posting is about. Obviously if you are a total art geek you would have gotten it even without the title, but total art geeks probably make up less than .01% of the population.
and now… without further without further ado… here is my painting titled "After Munch's Kiss by the Window." Or… an untitled painting which happens to be after Munch's Kiss By The Window.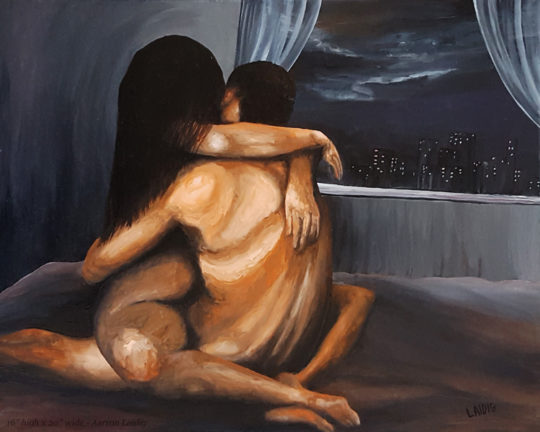 Think of it what you will. It captured what I wished successfully. I am pleased with it almost 50% which is an awful lot for me.
For Prints (if you like this) just go to Pixels/Fine Art America. You can also check out ArtPal. If you purchase a print via Art Pal really appreciate it if you messaged me about your experience. Speed, ease of ordering, quality of print, and anything else that sticks out to you. I've only uploaded a few things to them so far and they seem like they have a cool setup, but I have yet to start promoting my gallery as I would like a good bit of feedback first and am still collecting that. Thanks.