Concomitantly Devine
Coffee art and poetry because I know you can't get enough…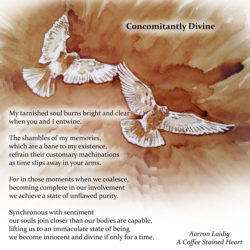 My tarnished soul burns bright and clear
when you and I entwine.
The shambles of my memories,
which are a bane to my existence,
refrain their customary machinations
as time slips away in your arms.
For in those moments when we coalesce,
becoming complete in our involvement
we achieve a state of unflawed purity.
Synchronous with sentiment
our souls join closer than our bodies are capable,
lifting us to an immaculate state of being
we become innocent and divine if only for a time.
---
© Copyright 2016 Aarron Laidig – A Coffee Stained Heart
Avalable at Amazon