Poetry
Poetry. I did this with a ballpoint pen. My model was a lovely girl who can be described as poetry herself. My cell phone camera with no special lighting came next and a couple image filters to make it look as it does finished it off.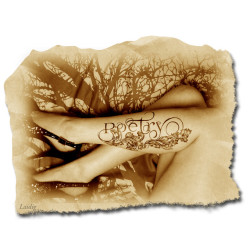 This is a finished product, but not THE finished product. There is another one I did from this which shall be used later as part of a much larger project. I'm excited about the project, but I'm unsure of the response I will get when I am done with it. We shall see.
I think of poetry as painting with words. It allows us to describe the indescribable and express feelings that otherwise can't be told. It is to language and writing what music is to noise. It takes the incomprehensible and rearranges it to give us another way to take it all in. Poetry has power. All of life's experiences can be expressed through art. Poetry is art and therefore all of life can be summed up in poetry.
This particular version was created for my ReddBubble portfolio. You can check it out HERE and find it is available as shirts, phone cases and skins for both iphones and Samsung galaxy phones , really cool (they are cool) throw pillows, coffee cups and travel mugs, sweet Tote bags for you environmentally aware folk who don't dig causing more trash in landfills by getting new shopping bags every time you purchase something, cards to send to your favorite poetry lover, and even a notebook that you could use to write your own poetry in.
You can find all that stuff by clicking "available products" when you are checking it out.
If you are so inclined you may also dig checking out some of my own poetry. To do so you just need to check out my poetry section here on Artistic Flow. If you don't already follow my poetry section here on the site I will warn you however that it moves back and forth between the sappy love sort and the dark and brooding kind for the most part. When it isn't going in those two horribly cliche directions it seems to delve into the erotic. Exceptions exist, but for the most part that is where my thoughts end up.