Bee Bee Bonita
Bee Bee Bonita is the title of this painting.
Bee Bee Bonita Banana Chiquita was the full title, but I thought it was a bit long.
Go with it if you want to, but I'm just going with Bee Bee Bonita.
I didn't name it. This piece was a commission. The person who commissioned it gave it the title which it seems is the name of the bird in the painting.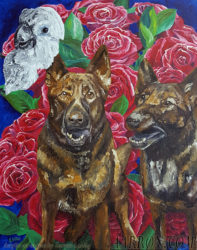 So anyways, here is the original.
I did this painting in a very expressive manner.
Here is a detail section to see it a bit better.
I used just one brush for the whole deal.
The paints were a mix of liquitex basics, golden advantage, and some low end delta acrylics. I finished it with a semi glossy acrylic liquitex varnish.
I did a slight remix too.
Here is the remix …
I am only making the remix version available as prints.
They are available via Society6 and also RedBubble.
As this was a commissioned piece created as a gift I kept the remix in mind the whole time since I didn't intend to offer up the original as a print.
Though at a glance they appear very similar you can see the difference in the final look easily up close.
Here is a detail of the remix version…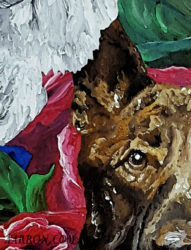 and again, in case you missed it (I know you didn't) prints are available via Society6 and also RedBubble.