Embers
This painting is 18″ high and 24″ wide on stretched canvas.
I've named this painting Embers.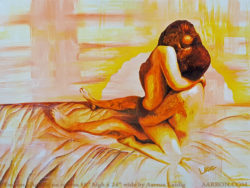 I named it Embers because that is what I was thinking of when painting it. Two embers in a fire together. The heat of each increasing that of the other and they are in a sense one being where that heat comes together.
That is what my thoughts were about and that is therefore what I titled it.
Ironically I was also attempting to make the painting not look fiery. Fire seemed to ring of lust to much without allowing for the serenity I also wished to portray in this piece. and I was using fire like colors so wished to shy away from the feelings of flames while still getting the embers feeling on the canvas. Plus, flames would have been to easy. I wanted a more simple and dreamlike quality.
It is a moment of paradise.
Here is why…
My intent when I started this painting was to show something like soul sex.
The type of sex that can't be had with just anyone… sex between soul mates… twin flames even.
It is more of a union of spirit than just physical. It is the bringing close together of separate things that were meant to always be one in the first place. Fiery passion can and does exist in such scenarios, but that is just a tiny bit of it.
I also did a digital remix of this painting.
There is an element of time standing still and all things being one which I added to it. Or I guess I should say I attempted to add such an element.
The flow… you can get lost in it with such a bonding. It isn't just now that it is happening is why. It is a continuation of the past and the future. It is what has happened in your previous lives and will happen in the future. There is never a close enough feeling in this life between twin flames. It is never easy either. The nature of human existence is to keep them separated. The nature of our essence is however to seek to become one again.
Here is the remix.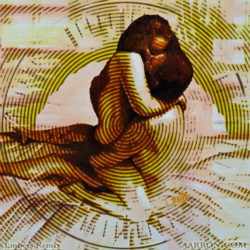 You can get prints of Embers (the painting) HERE via Fine Art America.
You can get Prints of Embers Remix HERE via Society6, and also HERE via RedBubble.
The items and print availability is different on Society6 and Redbubble which is why I included both links.