Transmutation
Transmutation is the title for this painting.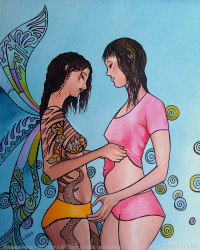 This was done with acrylic paints on 16″ wide x 20″ high canvas.
You can get cool prints (and a few other things) of this sexy and fun bit of artistic grooviness via my portfolio on pixels / Fine Art America.
The style of this I thing fits in with my pop cubism works kinda, but not totally. I started it with an entirely different goal, but it ended up sitting for a few days after the first night working on it and my mood was different when I returned to it. I liked what I had, but wasn't in the mood so switched gears midstream and this is the result. Fun and a bit different I'd say.