Green With Envy
This was painted on a non stretched bit of canvas measuring 20″ wide x 16″ high with acrylic paints.
The painting was done with just a couple small brushes and is obviously in an expressive style.
Unlike most of my work- this one was painted exclusively laying flat on a table.
Kind of a pain in the neck both figuratively and literally to not pop it up on an easel or tape/pin up to an inclined board for at least a bit of it, but I never did for some reason. That reason is as unknown to me just as it is to you.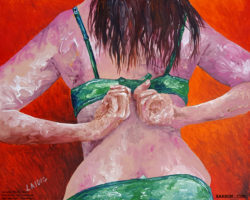 The title is Green With Envy.
Make of that what you will.
Prints can be had via Pixels / Fine Art America.