Edge of a tulip garden
Edge of a tulip garden is the title for this painting. It is also the description.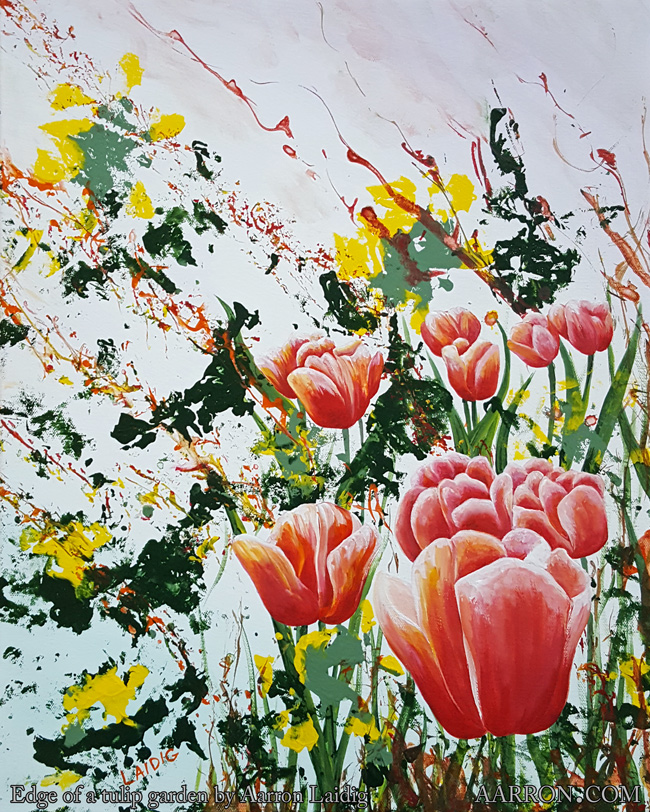 I did this in a very loose, fast, and frenzied style with just a couple round brushes, a bit of splatter, and a sandwich bag.
Yes, I said a sandwich bag. I wanted a bit of control and repetition to my paint splatters and blotches that I just couldn't achieve without getting very messy so I decided to pour bits of paint on a plastic sandwich bag and use that as a sort of stamp. To keep it a bit random still (because to much repetition doesn't jive with floral type things) I held it above the canvas while it was laying flat and dropped the painty bag six or seven inches each time. It worked well. Now you all know my art secrets.
My recommendation though is not to copy them. There are better things to use than sandwich bags, but I was being lazy and there was a box of them within reach. Nothing is safe from me if I'm in art mode. I'll pretty much grab anything near me and give it a whirl.
Prints of this painting can be had HERE.
You can also get posters, cards, phone cases, coffee cups, and a few other fun things featuring Edge Of A Tulip Garden HERE via Society6.
As an FYI … this painting is sixteen inches wide x twenty inches high. It was painted on a stretched canvas. It doesn't need framed. At the time of this posting it has no home and is available for purchase.