Poetry for Christmas
Commercialism and Christmas go hand in hand. I usually bitch about such stuff, but this year I am joining in.
I made these groovy advertisements for my Coffee Stained Heart art and poetry book. Yep… being an art whore again.
These were made for Tumblr, but lucky you get to see them here also.
This first one I thought was a bit much.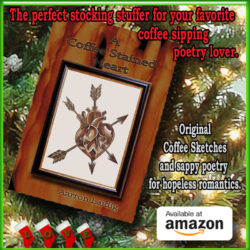 I toned it down a bit and thought it better, but it still sucks.


Anyways… sucky advertisements or not, it is Christmas time and we must shop until we drop.
My book is filled with heartfelt poetry of the lovesick variety and illustrated with sketches done in ink and regular coffee.
It makes for a fabulous and unique gift for people into poetry and romanticism. It makes for a doubly awesome gift if the person you are buying for is also a big coffee drinker.
That is my Christmas sales pitch…
You can buy it HERE on Amazon.
If you are digg'n the Coffee art idea, but not wanting a book, there is THIS too. It is a zazzle where I have uploaded a few bits of my coffee sketchings for cards, cups, etc… Can't beat these cups.
Sales pitch done.
Have a merry ho ho ho.