Hours
The title for both the poem and the sketchy art is "Hours." I created the art by doing a loose style scribble sketch with a Micron Pigma pen and then sloshing my coffee all over it for three days in a row.
Basically I just made a mess and then let it dry thoroughly before adding another messy slosh off coffee the next day. To finish it off I smeared just a wee bit within the moon area to give it a hint of depth.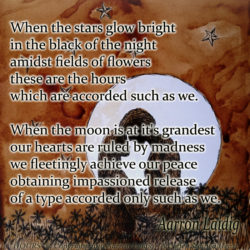 When the stars glow bright
in the black of the night
amidst fields of flowers
these are the hours
which are accorded such as we.
When the moon is at it's grandest
our hearts are ruled by madness
we fleetingly achieve our peace
obtaining impassioned release
of a type accorded only such as we.
Get it HERE Printed on birch wood (wood grain varies) or you can get it as a simple (and low cost card) which you can frame HERE.
© Copyright 2016 Aarron Laidig – Title = "Hours"