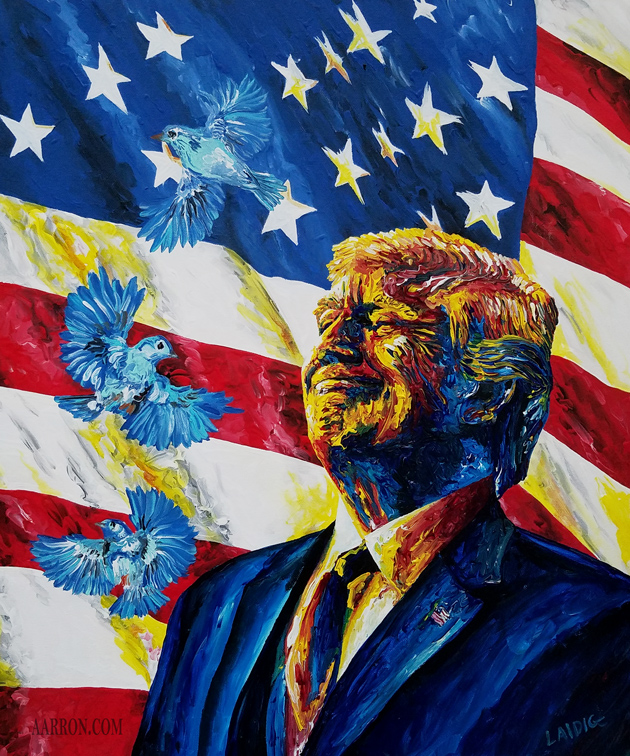 This painting was specifically painted as a closure to the year 2019. One thing I'd say everyone in the world pretty much had in common for the year was that at some point they talked about Donald J Trump, the 45th president of the United States Of America. Opinions varied of course, and the man was viewed in many ways depending on an individual's perspective, but they did talk about him.
Most of us read about him, watched reports, heard opinion pieces, etc.
I think we all pretty much heard of his tweets as well. Follow him or not, you'd hear about a tweet now and then. You'd read the tweet and again it all came down to perspective as to what you would make of it.
He used the tweet to do something no president before him has ever done through any form of media. He talked directly to the people in real time. No middle man, and no filter. It was instantaneous.
So, the title here is "Tweet."
You can get prints of this via Pixels/Fine art America as usual, or… you can try out ArtPal which is a site I am am just starting to check out. If you purchase a print via ArtPal I'd really appreciate it if you messaged me about your experience. Speed, ease of ordering, quality of print, and anything else that sticks out to you. I've only uploaded a few things to them so far and they seem like they have a cool setup, but I have yet to start promoting my gallery as I would like some feedback first.
You can get back to the main post HERE if you are lost or came here via an offsite link.