Tank Time
Tank Girl Costume Shoot.
If your not familiar with Tank Girl you should be.
It is a comic with a punk rock political sucker punch  between the covers,  featuring a very powerful character by the name of… Tank Girl. Actually it is Rebecca Buck, but we all just call her Tank Girl.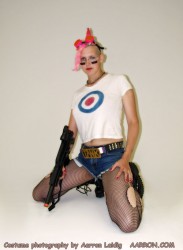 Created by Jamie Hewlett (who is also one of the guys behind the virtual band Gorillaz) and a cat named Alan Martin, Tank Girl was a creeper success in the euro independent comic scene long before I ever caught wind of it when Dark Horse published it here in the states in 91.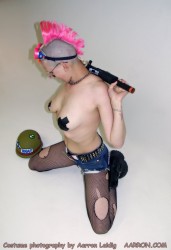 To get an idea of what Tank girl is about just figure in that her main squeeze is a mutated kangaroo named Booga, she drives a tank, and has a multi-million dollar bounty on her head. She is also rude, crude, nasty, foul mouthed, perverted, fashion insane, and drinks to much sometimes.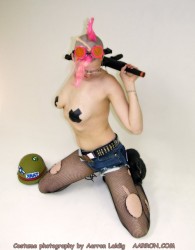 There is also a movie called Tank Girl that is based on the comic.
It stars Lori Petty as tank Girl, and it is a pretty fun flick.
It isn't really much like the comic however, so if you watch the flick and don't read the comics… keep that in mind.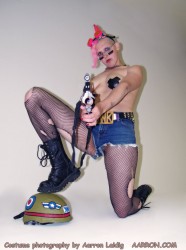 Anyway… Tank Girl.
Click the small pictures to see larger versions of the images.
The costume was a home made one, put together by the model.
I think she did a dang good job of it.