Did this one on sixteen inch high by twenty inch wide non-stretched canvas with acrylic paints.
The title is "On The Rocks," and I'm guessing you can figure out how I came up with the title.
I also did this as a kinda sorta self portrait-ish type deal by making myself recognizable even though hiding my face.
I've always found it a challenge to leave a bit of a generic quality to the figures in my art so that more people can identify with them. Basically I'm hoping that you the viewer can find my figures sometimes to represent yourself or someone you know. If I'm lucky I will hit home. Generic shapes and bodies… the in-betweens… and then to add myself into the imagery without losing every bit of that feeling makes it even more challenging. It also limits what I can do with flesh tones as I am a certain color and I can mess with that only so much and still be identifiable. In this case I wished for a degree of entanglement that brought the figures together as one unit while remaining separate so I continued with the exact color tones from myself to the female figure. To achieve continuity I painted back and forth from male legs to female, male torso to female, face to face and hair to hair always mixing the same as I went. It was in a way like painting a male and female twin type thing. They aren't meant to be that obviously, but during the creative process while matching tones I felt that way at moments. Since I have been on a kick about soul mates and twin flames of late I will say maybe it is a representation of twin flames. That wasn't my intent on starting the piece either though, but I'll throw it out there anyways.
and… that is probably about enough said on this one without actually getting into what I was truly getting at symbolically with this painting. I know some of you dig full explanations, but I think it ruins the art. It is always best for you the viewer to see what you see and find what you find in a work of art without the artist telling you their reasoning.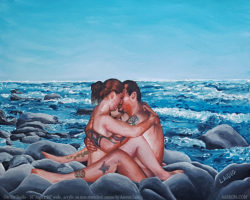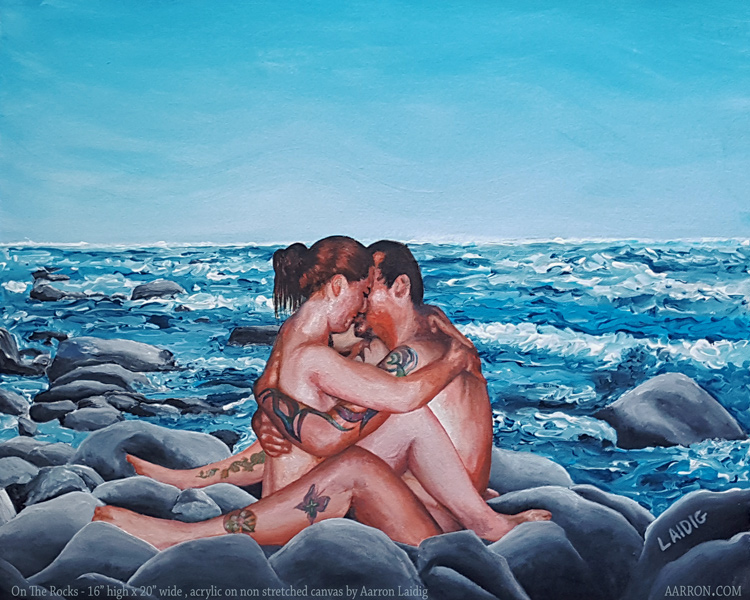 You can get prints of On The Rocks right HERE.
You can also get a super cool remix I did of this painting via Society6. Even if you aren't into my remix stuff you should check it out as I really like how this one came out.