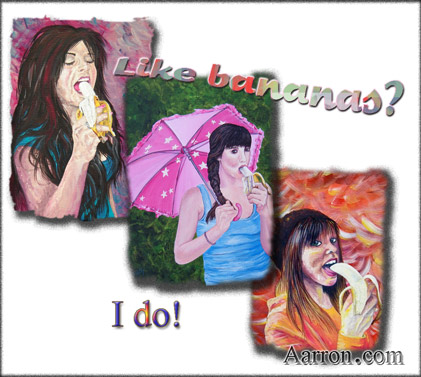 Anna anna bo banna, banana…
This is a series of small paintings I am working on.
How the idea came about is a long story, but why I stuck with it is pretty simple.
1) I like bananas and eat one every single day for my lunch. 2) it is a goofy project that causes me no stress that I am able to work on to clean the cobwebs from my mind. 3) It is lightly suggestive in a fun way while maintaining a balance with innocence.
How this works:
You show up at my place of work with one or two bananas (when I am there obviously) and I will take a dozen plus photos of you that I will use as a reference when I paint YOU for my banana eaters series of paintings.
In most cases I am looking for "about to eat a banana" rather than actually eating it.
Bonus points if you have a fun shirt, hat, bikini top, etc… for your pictures.
What you get for this?
Absolutely nothing except that you will be featured in a painting that is part of a large series.
(I can furnish you with a print if you ask though)
I do not know if I shall ever show these paintings in any large scale, but they will be eventually shown online on various art sites.
I also will most likely make them available as greeting cards and or stickers.
There you go… Eat a banana and be art!
Hope to see you soon.