Ne plus ultra
Ne plus ultra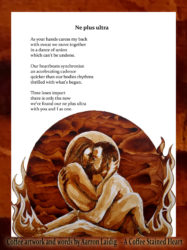 As your hands caress my back
with sweat we move together
in a dance of union
which can't be undone.
Our heartbeats synchronize
an accelerating cadence
quicker than our bodies rhythms
thrilled with what's begun.
Time loses import
there is only the now
we've found our ne plus ultra
with you and I as one.
© Copyright 2016 Aarron Laidig
The art was done with ink and coffee and the poem was created via an emotional high.
This art and poem are included in my book A Coffee Stained Heart which can be found HERE: http://amzn.to/2dEucOz on Amazon