Theodor Seuss Geisel homage
Theodor Seuss Geisel aka Dr. Seuss aka Dr. Theophrastus Seuss aka Theo LeSieg aka Rosetta Stone was one of the coolest cats of the last century.
A master of propaganda, a fighter of the good fight, a defender of the defenseless, and a teller of great tales.
A marvelous artist indeed.
This cool cat who is most known by his pseudonym Dr. Seuss influenced us all.
I find it odd that when people interview artists and ask who their greatest influences are Theodor Seuss Geisel is not often named.
Lies I tell you! This artist influenced in big ways.
Yet… I too am guilty of the omission.
If asked I often reply with Peter Max, Salvador Dalí, Edvard Munch and a couple other folks depending on who I am talking to. I only ever say the names of extremely famous artists because mentioning artists they'd not know is useless. I usually omit Seuss, Shel Silverstein also Charles M. Schulz too and I really don't know why. All three are big influences on my art and ways of thinking. They are all extremely famous so it is obvious whomever is asking would know who they are or should if nothing else.
Seuss was a big one for me. Not only did he create worlds I could identify with and successfully shove both his political and social propaganda into my skull for life, but he showed me that you can create serious art disguised as not so serious art.
For that alone he should be listed in my top four.
Here is my Theodor Seuss Geisel homage.
I did this with colored pencils.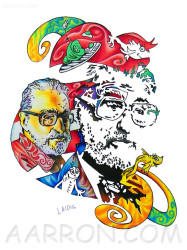 If you are diging my Seuss you can get yourself T-shirts, carts, stickers, phone cases, etc… via my RedBubble Account located HERE.
As an added extra to this babble (because I know you love to read my babble) I give you a list of the names I most commonly hear as "influences" when artists answer that "who are your greatest influences?" question. Leonardo da Vinci, Alphonse Mucha, Roy Lichtenstein, Gustav Klimt, Robert Williams, Edward Hopper, Boris Vallejo, Willem de Kooning, Alberto Vargas, Jeffrey Catherine Jones, Larry Elmore, Maxfield Parrish, Joe Coleman, Mark Ryden NC Wyeth, Raphael Georgia O'Keefe, Frank Frazetta, Andy Warhol, Norman Rockwell, Gil Elvgren, Alex Grey, Chuck Close, Pablo Picasso, Banksy, Henri Matisse, Paul Klee, Egon Schiele, Frida Kahlo, Auguste Rodin, Pierre Auguste Renoir, Balthus, H. R. Giger, Diego Rivera, Sandro Botticelli, Peter Paul Rubens and a bunch of random old world masters.
If asked = My answer will now be Peter Max, Salvador Dalí, Edvard Munch, and Dr Seuss. I will no longer omit the creator of Yertle the Turtle.
and don't forget… "Today you are You, that is truer than true. There is no one alive who is Youer than You."