Little Cheetah Bow
Another Random Tattoo Phone Pic for ya.
This one is…
A little cheetah print bow with a cute heart button.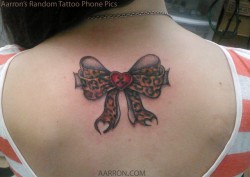 I actually wish I had taken a real pic of this one in hindsight. It is just so darn cute and looks so much nicer in real life than my cruddy little phone pic captured.
Oh well… such is life, and if I really thought I needed a real pic I could get one because about a week after the client got this tattoo she began working at a store I frequent.
She also happens to be super nice in general which always makes a tattoo session more enjoyable. Even small tattoos such as this can seem to drag on if the client is not a cool person to deal with.
Anyhow… not the deal here. She is of the cool to deal with variety.
As for her design… she basically described it to me and drew out a quick sketch of her idea herself just to make sure I had it. A bow is a bow is a bow, but people are particular about their bows sometimes. I like that in a client too. People are not picky enough in general these days when it comes to expressing themselves with their tattoos.
It is like just anything would be cool. A bow is a bow is a bow. Is it the exact bow for you though?