Untitled Sizzle 12142013
Another Sizzle to tease your eyeballs…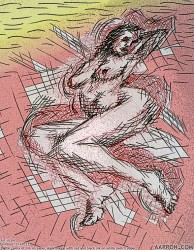 This one started with a pen and ink sketch done in a style simalar to cross hatching, but way out of control and quick.
The model was asked to move around while laying down. I was attempting to capture the sensation of her moving and wriggling without drawing in actual motion lines.
It wasn't super easy and I ended up going with this crosshatch on speed type sketch style to restrain myself from drawing said movement lines. It was pretty much impossible to control my need to sketch those movements with curves until I tried to go with a style made completely of straight lines.
Even then… as you can see… I ended up cheating a tad across the forward left section in front of feet, knee, tummy, breast, and head.
Here is what the original sketch looked like.
The finished sketch did not impress me in any way by itself, but I saw great potential in it as a digitally modified piece for my Sizzles collection because of the unique use of the lines and hard edged inkwork.
What I ended up doing with it digitally was not at all what I had originally intended to do before I got playing with it on my PC, but I really like the finished result.
I also found that once I uploaded the final bit to my Imagekind galleries that it looked really cool as a stretched canvas style print.
It is rare I feel that way about my Sizzles. Usually I prefer the look of them framed and matted. Not that my preferences mean anything when it comes to such things as you (the fan/consumer/patron/whatever you wish to be thought of) ultimately dictate what is or isn't the best way to display my creations when you order my work.
I shall never argue as I am always happy when people by prints of my stuff and I know hat I am the worst judge of my own work that could exist. In general I think almost all artists are poor judges of their own creations.
Anyways… here is what it looks like as a stretched canvas print.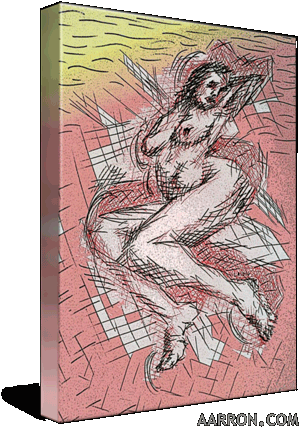 You can get prints of this Erotic Art Sizzle HERE.