Steph's Feet
Some guys have foot fetishes and some literally hate feet.
I personally go back and forth, but always appreciate nice feet on a gal.
Pretty feet are awesome. The problem arises for some foot fetishists though that many women with nice tootsies don't get it, don't get into it, and don't understand it.
The flipside of that however is when a gal adores her own feet and likes to play off of their attractive nature.
This is a figure sketch I did.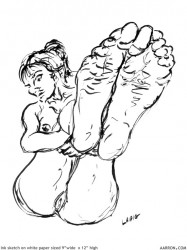 The girl is attempting to showcase her feet in the sketch and doing a good job. She feels her feet are sexy. She likes to show them.
The sketch was done in a very loose style and does focus on the feet, but also has appeal to those who don't necessarily have a foot fetish I think.
I also did a very cool Sizzle utilizing this sketch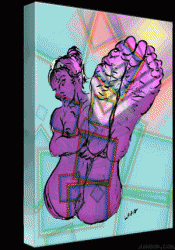 As a sizzle I'd say this piece stands out from all the others I have done in a big way when it comes to style.
I went about it from a completely different direction and played of standard digital editing filters in a way that showcases them rather than blending them into the art completely.
I rather like the results, but at the same time felt unsure because I stepped away from the look of traditional art media appearances so much I think it crosses the line. I like digital art, I like computers and graphics programs. I don't like what they are taking away from traditional art though. I doubt I will ever do much with digital only type art. I think I must keep to starting at least with a hand drawn, painted, sketched, etc… type bit of art to feel ok about it.
Anyways, so I don't end up blabbing about digital vs traditional for a thousand words, I will say that I am overall very happy with the finished look of the sizzle version of Steph's Feet.
Steph's Feet Erotic art sizzle Prints can be had HERE.
Prints of the original ink on paper sketch can be had HERE.
As is usual… if you click the pictures you can see the art larger.