The beguiling carnation sizzles
I had a certain sexual situation I was asked to portray in a sizzle.
That situation was a white hotwife teasing a bull.
A hotwife is basically a married woman who has sex with other men with her husbands full knowledge and usually in front of the husband. There are a lot of variations to what is called the "hotwife lifestyle." One very popular variation seems to be that a white couple has a hotwife and a voyeur husband who specifically wishes to watch his wife with black men. They call these black men bulls. The black men that participate also call themselves bulls.
Bigger the bull in physical size and also in penis size the better it seems for most of the couples who are into this. Sometimes a sort of humiliation of the husband aspect is also involved.
I personally don't get the appeal in that, but whatever floats your boat.
I do get the whole tip tease aspect though and that is part of what this was to be about.
"Teasing the bull" was my working title for this.
It was going to go into a private bedroom, but one without a lock so not in the know guests could eventually end up seeing this. For that reason we wanted the art to be very obvious, but at the same time not super graphic.
I ended up doing two versions of this erotic sizzle.
This is the first version.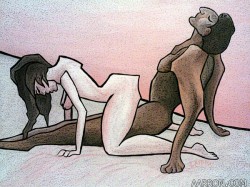 I liked the overall flavor of this one best, but I knew from the images that the client mentioned of my previous sizzles I couldn't leave it so simple.
For me the clean and smooth was perfect, but it wasn't really for me.
It needed some busy. It needed some static.
Rather than just continue modding my original painting. (I painted this in acrylic on canvas originally) I actually attacked my little painting.
I relined the figures and with the paint still wet smeared it with paper towels in a downward motion. It mucked it all up a bit and I ended up having to remove a lot of paint. I added the dots you see and then relined the whole piece again to bolden it up, then took another picture and started to make a digital modified version from that.
Good I went to all that work because that is the version the person ended up liking best.
This is what it looks like.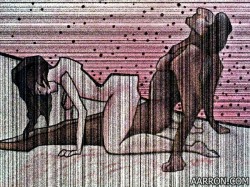 The beguiling carnation Static Version sizzle
Prints of this can be had HERE.
The beguiling carnation Erotic sizzle Version One prints can be had HERE.
The original painting I made which has the same title still remains in my possession.