Retro Pocket Rocket
Big Teaze Toys is a company focused on creating fun and innovative products for adults.
One of their tag lines is "Toys That Play With You!™" and it is a perfectly fitting tagline.
One of their product lines is the "Man Eaters™ From Outer Space™."
Aliens!
Goofy, but cool and original.
The most recent addition to the theme is the Retro Pocket Rockets™.
Here is the Product Description as given by the manufacturer:
Retro Pocket Rockets™
Inner Space…. The Final Frontier…
Its been a year since Man Eaters™ from Outer Space have landed and have taken a bite out of the male population on Earth. Now the people of earth have their own counter weapon of mass satisfaction: Retro Pocket Rockets™ by Big Teaze Toys.
Ground Control to Pathfinder, Come in Pathfinder. 5,4,3,2,1 Blast Off…. Ladies and Gentleman we have liftoff! These retro themed waterproof vibes will launch your love life into a whole new Galaxy. With Engines powerful enough to make the Space Shuttle shake, quiver and quake, Retro Pocket Rockets vibrator will take you to the moon and back…for more! When your mission is complete, cool your engines by touching down on your nearby lunar base (display stand included) while you prepare for your next adventure. Get ready to explore new and exciting territories.
Requires: 1 (AA) Battery and Preparation for feeling out of this world.
I love an original take on a product and Big Teaze Toys is spot on with originality and fun.
The Retro Pocket Rocket Intergalactic Waterproof Vibrator is a fun toy.
With PATHFINDER X-1 emblazoned across it's side this looks like (and can be used as) just a regular old rocket toy/model.
It has a cool moon base/stand to keep it sitting on to further the effect.
You could set this on any shelf and nobody would have a clue it was a vibrator.
It doesn't need the moon base to stand up, but it is fun that they included it.
I also love that Big Teaze Toys went all out on the packaging and didn't miss a thing.
The packaging of this product is frigg'n radical awesome!
Just look at it.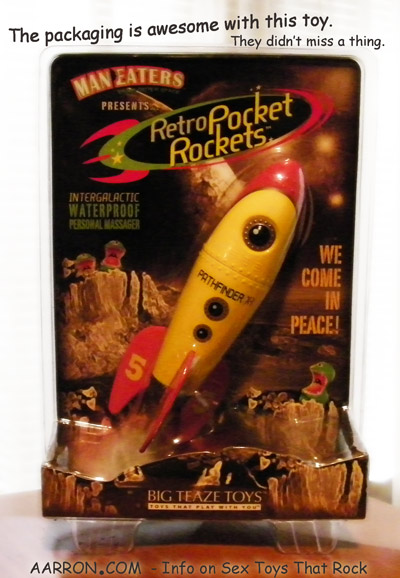 This toy is discrete because of it's looks, works well (though it would be nice if it had multiple speeds) and is also a fun conversation piece if you so choose to share what it really is with company.
Product specifications:
Retro Pocket Rockets™
Speeds: 1
Available Colors: Yellow, Red
Item Dimensions: 5″ x 1″ / 12.7 x 2.54 cm
Battery Requirements: 1 AA Alkaline Battery (not included)
Contains no: Latex, Natural Rubbers, Phthalates or Toxic Heavy Metals like Cadmium and Lead.
International Safety & Environmental Compliance: CE, ROHS, WEEE and ASTM
Here is a direct link to the product at Good Vibrations website.
Good Vibrations is a diverse, woman-focused retailer providing high-quality, sex-positive products and non-judgmental, accurate sex information.