LELO Oden
I like LELO products.
I like taking pictures of LELO products.
LELO has class!
Look at this beautiful packaging.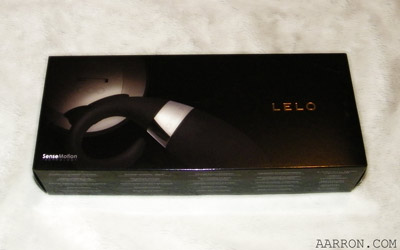 This is how LELO describes ODEN
The Most Advanced Couples' Ring Ever Made
Oden™ is the most sophisticated couples' ring ever made, featuring an industry- first with SenseMotion™ technology and wireless remote that allows you to change vibrations with a tilt of your hand. Delivering more intimacy and control than ever before, the unique and flexible design is coated in the smoothest silicone to bring greater comfort to the man, while the near-silent vibrations allow for intimate enjoyment by both partners. Fully waterproof and rechargeable, with motion -control settings and all the guarantees you expect from LELO – no other couples' ring offers this kind of sensual experience.
Then they throw this little tidbit in:
Tip: Oden™ works best as an external massager to be worn by a male partner during intercourse.
Basically what we have here is a kinda sorta cock ring / remote controlled vibe.
HOW TO USE ODEN™
Oden™ is a vibrating couple's ring designed for a male partner to wear during intercourse. To wear, open Oden™'s flexible silicone ring and place it around the base of the penis when erect, with the flattened side of Oden™'s pleasure point against the abdomen and pointing upwards towards the navel. You will then be able to control vibrations via wireless remote, alternating between SenseMotion and 6 additional stimulation modes.
The remote is new technology in sex toys.
SenseMotion™ Technology offers an unprecedented way to interact with personal massagers, where vibration speed and intensity can be controlled via movement alone. This can range through tilting, shaking or sweeping the wireless controller through different movements, which in turn prompts a response in your Lyla™, Oden™ and Tiani™. More than this, the controller mirrors the vibrations you are creating, which means you can feel what a partner is experiencing from a range of up to 12 meters/39 feet.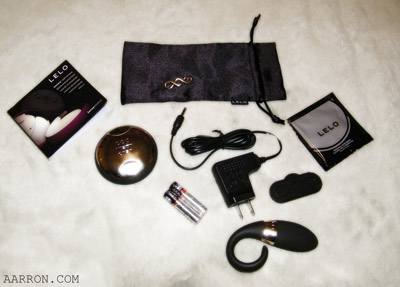 ODEN STATS:
Finish: Matte Silicone / Shiny ABS Plastic
Size: 94 X 45 X 26mm / 3.7 X 1.77 X 1.02 in.
Weight: 28g / 0.99 oz.
Battery: Li-Ion 70 mAh
Charging: 2 h at 5.0 V 70 mA
User Time: 1 hrs (Oden™) 10 hrs (controller)
Standby: 90 days
Frequency: 180Hz
Wireless Range: Up to 12 meters / 39 feet
Link Frequency: 2.4GHz
Transmitter: 1mW
ODEN was supplied to me by Babeland.
Here is what how Babeland describes the product on their website.
Come together with Lelo Oden, a rechargeable vibrating cock ring that's sure to inspire some of the best couples' fun you've ever known. Just hold the smooth, adjustable ring open, and slide it onto a penis or dildo; then, position the vibrating egg upward for her clit stimulation, or down for vibration on his balls. And as an added bonus, enjoy a new technology known as SenseMotion: you can change Oden's vibration pattern and strength with a mere flick or tilt of your wrist, and you'll feel the vibrations in the remote control, too. (Or set it to manual mode, and it works just like any other remote control vibrator, with a range of up to 39 feet.) Waterproof and variable speed; six vibration patterns.
This product has a one-year warranty against breakage or defects.