Anybody else ever want to cuddle fuck?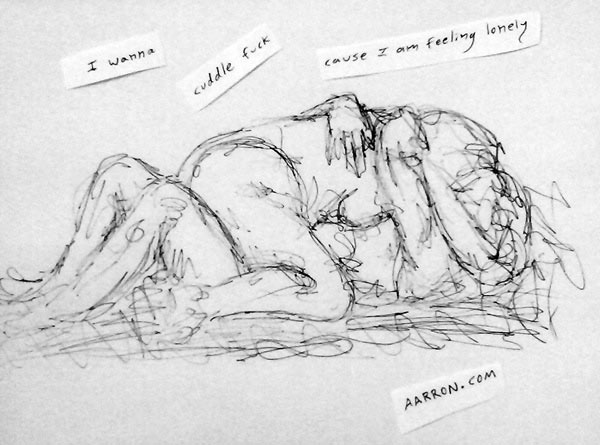 I wanna cuddle fuck cause I am feeling lonely.
There are a lot of different types of sex. Sometimes we humans crave the down and dirty. Sometimes we crave love making. Adventure sex is always fabulous, and naughty is my usual fave.
Then... sometimes we just want to be close to someone we like a lot. Sometmes if we are feeling down and lonely certain types of sex can be like medicine.
So when I scribbled this little doodle down I was needing some lovely, close, friendly, intimate, cuddly type sex.
I scribbled the picture and then cut out the little jotted down words to tell the tale of what i wanted and needed from the girl who i thought could give such soul medicine. I then took a picture.
Sadly I chickened out and never sent the text. I worried I would not get the response I wanted.
I cut out another little bit. The part that says AARRON.COM, and then took another pic to post to one of my tumblr blogs in a state of despair.
That my friends is the story behind this little scribble.